Our 1st Haircolour for Mature Hair. Crème Formula.
Product Details

Our Exclusive Layered-Tone Technology specially developed for grey hair creates natural highs and lows for a layered, tonal effect, as if it was subtly highlighted. At the roots, regrowth is blended with the rest of your hair.
Ingredients

178914 U – DEVELOPER CRÈME / RÉVÉLATEUR CRÈME : AQUA•HYDROGEN PEROXIDE•CETEARYL ALCOHOL•TRIDECETH-2 CARBOXAMIDE MEA•CETEARETH-25•GLYCERIN•PENTASODIUM PENTETATE•SODIUM STANNATE•TETRASODIUM PYROPHOSPHATE•PHOSPHORIC ACID. FIL (K12836/24) 1172500 – COLOURANT CRÈME / CRÈME COLORANTE : AQUA•CETEARYL ALCOHOL•PROPYLENE GLYCOL•DECETH-3•LAURETH-12•AMMONIUM HYDROXIDE•OLETH-30•HEXADIMETHRINE CHLORIDE•LAURIC ACID•GLYCOL DISTEARATE•POLYQUATERNIUM-22•ETHANOLAMINE•SILICA DIMETHYL SILYLATE•CI 77891 •m-AMINOPHENOL•ASCORBIC ACID•SODIUM METABISULFITE•6-HYDROXYINDOLE•THIOGLYCERIN•TOLUENE- 2,5-DIAMINE•2-METHYLRESORCINOL•DIMETHICONE•PENTASODIUM PENTETATE•PROLINE•CARBOMER •THREONINE•RESORCINOL•PARFUM. FIL (C170526/1) 1087179 D – RESTORATIVE CONDITIONING TREATMENT / TRAITEMENT REVITALISANT RESTAURATEUR : AQUA •CETEARYL ALCOHOL•GLYCERIN•BEHENTRIMONIUM CHLORIDE•AMODIMETHICONE•CETYL ESTERS•ISOPROPYL ALCOHOL•SODIUM PCA•TRIDECETH-6•PANTHENOL•CANDELILLA CERA•CETRIMONIUM CHLORIDE•CHLORHEXIDINE DIHYDROCHLORIDE•HYDROXYPROPYLTRIMONIUM HYDROLYZED WHEAT PROTEIN•2-OLEAMIDO-1,3-OCTADECANEDIOL •SOLUBLE COLLAGEN•PARFUM. FIL (K52825/5)
Usage

Do an allergy test 48 hours before using product.
Mix the colour based on the instruction leaflet.
To apply the colour mix, read the instruction leaflet depending on whether you want to colour your roots or all-over.
Rinse and condition based on leaflet instructions.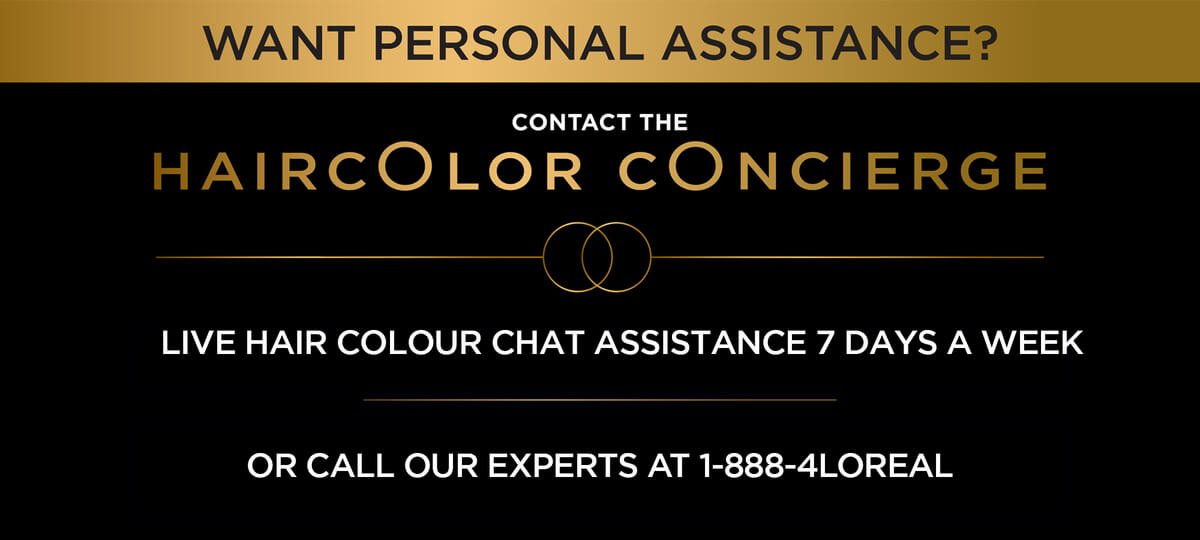 Read More on Excellence Crème
Discover more tips & tricks
View all articles
{ "@context": "http://schema.org", "@type": "Thing", "subjectOf": { "@type": "ItemList", "itemListElement": [ { "@type":"ListItem", "position": 1, "url" : "https://www.lorealparis.ca/how-to-refresh-your-hair-colour-at-home", "item":{ "@type": "Article", "mainEntityOfPage":{ "@type":"WebPage" }, "headline":"How to Refresh Your Hair Colour at Home", "image":{ "@type":"ImageObject", "url":"https://www.lorealparis.ca/-/media/project/loreal/brand-sites/oap/americas/ca/articles/blog/hair_colour/how-to-refresh-your-hair-colour-when-you-don-t-have-time-to-hit-up-the-salon.jpg?rev=2fc040b2d0a74e658e064af1420e02fa", "height":900, "width":2000 }, "datePublished": "2022-05-20T15:07:26+00:00", "dateModified": "2022-07-04T13:10:45+00:00", "author": { "@type": "Brand", "name": "L'Oréal Paris" }, "publisher":{ "@type":"Organization", "name":"L'Oréal Paris", "logo":{ "@type":"ImageObject", "url":"https://www.lorealparis.ca/-/media/project/loreal/brand-sites/oap/shared/baseline/navigationext/loreal-paris-black-logo.svg?rev=147e5790cc7a43c1b5dfab8f019cda29", "width":189, "height":60 } }, "description":"Revive all-over colour or even pull off balayage, DIY-style in the comfort of your home. " } }, { "@type":"ListItem", "position": 2, "url" : "https://www.lorealparis.ca/how-to-correct-brown-hair-colour-mistakes-at-home", "item":{ "@type": "Article", "mainEntityOfPage":{ "@type":"WebPage" }, "headline":"how-to-correct-brown-hair-colour-mistakes-at-home", "image":{ "@type":"ImageObject", "url":"https://www.lorealparis.ca/-/media/project/loreal/brand-sites/oap/americas/ca/articles/blog/how-to-correct-brown-hair-colour-mistakes-at-home_1080x476.jpg?rev=84f851dbfb38495d9e8ae7b2094a08c0", "height":480, "width":1080 }, "datePublished": "2019-12-31T14:30:26+00:00", "dateModified": "2023-07-04T18:51:44+00:00", "author": { "@type": "Brand", "name": "L'Oréal Paris" }, "publisher":{ "@type":"Organization", "name":"L'Oréal Paris", "logo":{ "@type":"ImageObject", "url":"https://www.lorealparis.ca/-/media/project/loreal/brand-sites/oap/shared/baseline/navigationext/loreal-paris-black-logo.svg?rev=147e5790cc7a43c1b5dfab8f019cda29", "width":189, "height":60 } }, "description":"Fix brown hair colour mishaps in a flash and look your best whether your day involves a client meeting, a sweaty lunchtime spin class or post-work drinks." } }, { "@type":"ListItem", "position": 3, "url" : "https://www.lorealparis.ca/colour-guide-how-to-keep-your-blond-hair-healthy-happy-and-protected-in-summer", "item":{ "@type": "Article", "mainEntityOfPage":{ "@type":"WebPage" }, "headline":"Colour Guide: How To Keep Your Blond Hair Healthy, Happy And Protected In Summer", "image":{ "@type":"ImageObject", "url":"https://www.lorealparis.ca/-/media/project/loreal/brand-sites/oap/americas/ca/old-image-path-structure/categories/hair/haircolor-category.jpg?rev=33c38de31bba4297a791d88c0999dc57", "height":900, "width":2000 }, "datePublished": "2023-04-14T15:37:42+00:00", "dateModified": "2023-07-04T18:51:38+00:00", "author": { "@type": "Brand", "name": "L'Oréal Paris" }, "publisher":{ "@type":"Organization", "name":"L'Oréal Paris", "logo":{ "@type":"ImageObject", "url":"https://www.lorealparis.ca/-/media/project/loreal/brand-sites/oap/shared/baseline/navigationext/loreal-paris-black-logo.svg?rev=147e5790cc7a43c1b5dfab8f019cda29", "width":189, "height":60 } }, "description":"Things like sun exposure and chlorine can take their toll on blond hair. Learn how to keep your colour vibrant all summer long with these tips and product suggestions." } } ] } }
Discover More in 100% Grey Coverage
Discover more
See all products
Excellence Age Perfect
10N Very Light Natural Blonde
{ "@context": "http://schema.org", "@type": "BreadcrumbList", "itemListElement": [ { "@type":"ListItem", "position": 1, "item": { "@id": "/", "name": "Home" } } , { "@type":"ListItem", "position": 2, "item": { "@id": "https://www.lorealparis.ca/en-ca/hair-colour", "name": "Hair colour" } } , { "@type":"ListItem", "position": 3, "item": { "@id": "https://www.lorealparis.ca/en-ca/hair-colour/hair-colour", "name": "Hair colour" } } , { "@type":"ListItem", "position": 4, "item": { "@id": "https://www.lorealparis.ca/en-ca/hair-colour/excellence-age-perfect", "name": "Excellence Age Perfect Hair Colour" } } , { "@type":"ListItem", "position": 5, "item": { "@id": "https://www.lorealparis.ca/en-ca/excellence-age-perfect/excellence-age-perfect-10n-very-light-natural-blonde", "name": "Excellence AgePerfect 10N Very Light Natural Blonde" } } ] }