Panel 1

Panel 2

Panel 3

Panel 4

Panel 5

Panel 6

Panel 7

Panel 8
Hair expertise
Hyaluron Plump Moisture Wrapping Mask, with Hyaluronic Acid, 300ml
Our Hair Mask instantly wraps hair with moisture, leaving it looking replumped.
Product details

Our 72h Moisture Wrapping Mask offers an instense hydration boost, instantly wrapping hair with moisture, leaving it looking replumped and 10x more hydrated for 72h* with no weigh down. It is powered with Hyaluronic Acid, a molecule that retains 1000 times its weight in water and helps replump hair. *vs non-conditioning shampoo.
Ingredients

AQUA / WATER / EAU • GLYCERIN • CETEARYL ALCOHOL • DISTARCH PHOSPHATE • QUATERNIUM-87 • DIMETHICONE • CI 60730 / EXT. VIOLET 2 • LACTIC ACID • SODIUM HYALURONATE • PHENOXYETHANOL • STEARETH-6 • ACETIC ACID • PEG-150/DECYL ALCOHOL/SMDI COPOLYMER • PEG-100 STEARATE • BEHENTRIMONIUM CHLORIDE • TRIDECETH-10 • TRIDECETH-3 • CHLORHEXIDINE DIGLUCONATE • PROPYLENE GLYCOL • AMODIMETHICONE • ISOPROPYL ALCOHOL • PARFUM / FRAGRANCE
Usage

After using the Hyaluron Plump shampoo, work through your lengths, spread evenly right to the tips. Leave on for 2-3 minutes, then rinse. In case of contact with eyes, rinse immediately and thoroughly.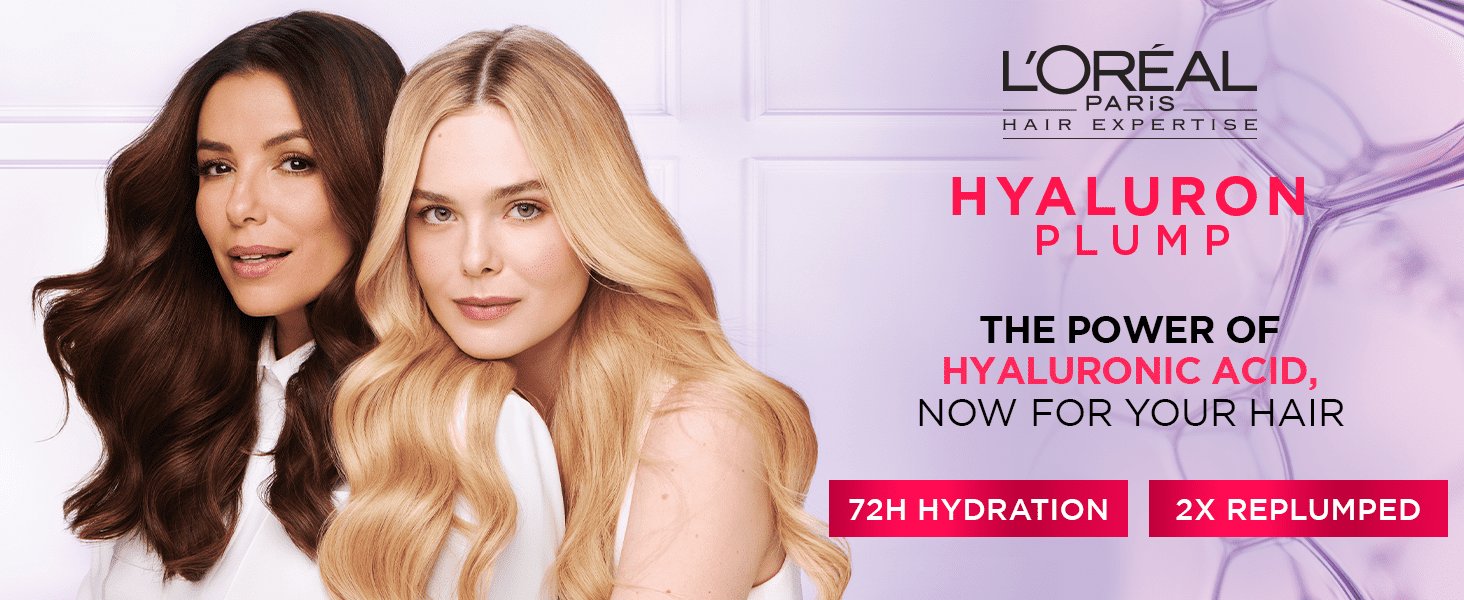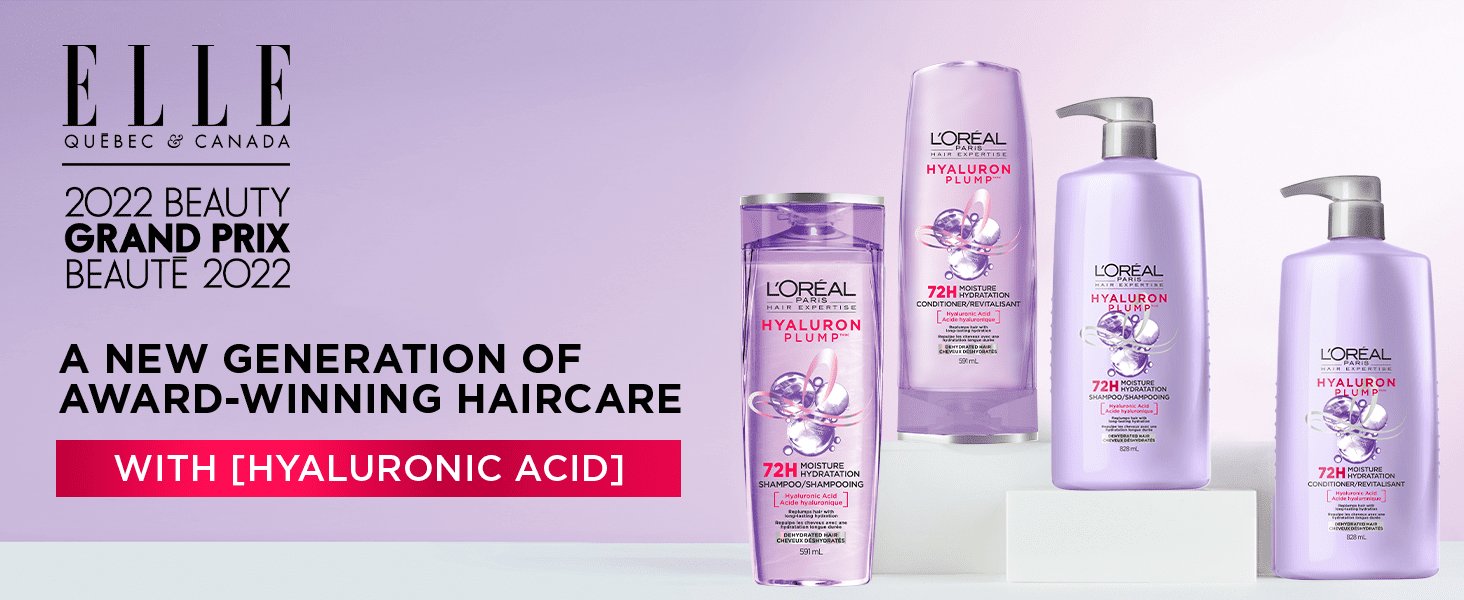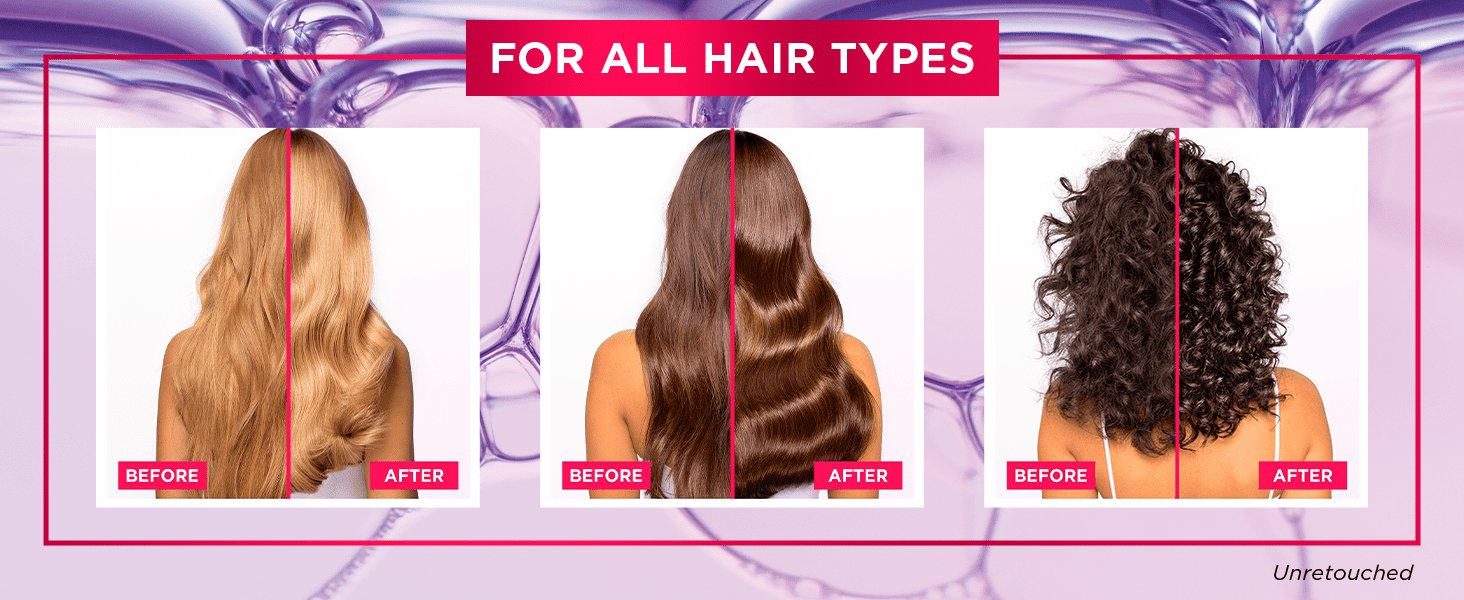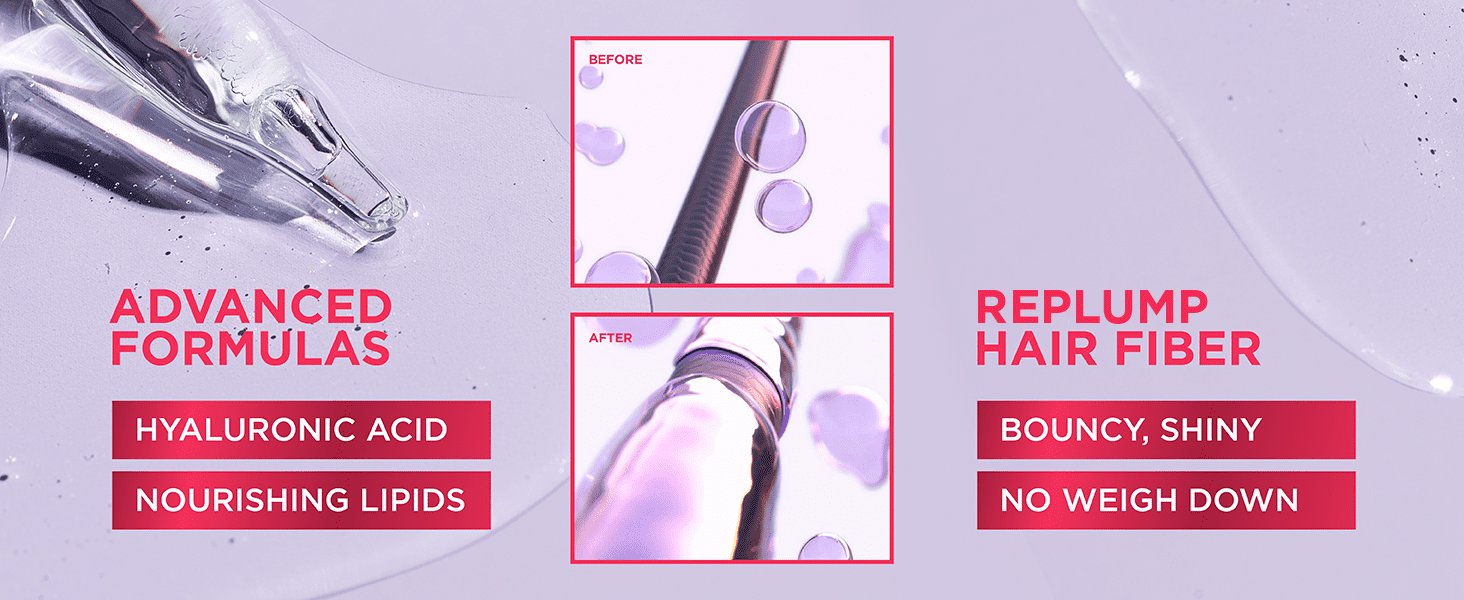 YOU MAY ALSO LIKE
{ "@context": "http://schema.org", "@type": "Thing", "subjectOf": { "@type": "ItemList", "itemListElement": [ { "@type":"ListItem", "position": 1, "url" : "https://www.lorealparis.ca/get-the-look-halloween-mermaid", "item":{ "@type": "Article", "mainEntityOfPage":{ "@type":"WebPage" }, "headline":"get-the-look-halloween-mermaid", "image":{ "@type":"ImageObject", "url":"https://www.lorealparis.ca/-/media/project/loreal/brand-sites/oap/americas/ca/articles/blog/cosmetics/get-the-look-halloween-mermaid.jpg?rev=f14ff3323d654aebbb01762a34cfdcbb", "height":900, "width":2000 }, "datePublished": "2023-06-29T15:00:19+00:00", "dateModified": "2023-08-07T18:36:52+00:00", "author": { "@type": "Brand", "name": "L'Oréal Paris" }, "publisher":{ "@type":"Organization", "name":"L'Oréal Paris", "logo":{ "@type":"ImageObject", "url":"https://www.lorealparis.ca/-/media/project/loreal/brand-sites/oap/shared/baseline/navigationext/loreal-paris-black-logo.svg?rev=147e5790cc7a43c1b5dfab8f019cda29", "width":189, "height":60 } }, "description":"Mermaid hair and makeup tick all the boxes for a fun, cute and easy to DIY Halloween costume. This simple guide break downs how to create the colourful look in just a few key steps. Excited for Halloween but not sure what you want your costume to be? Look no further than our mermaid hair and makeup tutorial. It has everything you could want in a costume: shades of pastel colour, shimmering makeup and is totally on-trend. Mermaids mania has swept pop culture in the last year — a few swipes through your Instagram feed will no doubt reveal a variety of aquatic-inspired beauty looks using shades of green, blue, purple and pink. From adding subtle pastel streaks to your strands to applying a healthy dose of sparkle to your lids and lips, this super simple mermaid hair colour tutorial and makeup guide has all your bases covered for a stunning under the sea style. Featuring a video with influencer @rahmanbeauty, follow along with each step to recreate your own customized version of this year's most sought-after Halloween look." } }, { "@type":"ListItem", "position": 2, "url" : "https://www.lorealparis.ca/get-the-look-halloween-fairy-makeup", "item":{ "@type": "Article", "mainEntityOfPage":{ "@type":"WebPage" }, "headline":"get-the-look-halloween-fairy-makeup", "image":{ "@type":"ImageObject", "url":"https://www.lorealparis.ca/-/media/project/loreal/brand-sites/oap/americas/ca/articles/blog/cosmetics/get-the-look-halloween-fairy-makeup.jpg?rev=bc4ec58b4fa446af9a6880a9abcfa85c", "height":900, "width":2000 }, "datePublished": "2023-06-29T14:59:08+00:00", "dateModified": "2023-08-07T18:37:33+00:00", "author": { "@type": "Brand", "name": "L'Oréal Paris" }, "publisher":{ "@type":"Organization", "name":"L'Oréal Paris", "logo":{ "@type":"ImageObject", "url":"https://www.lorealparis.ca/-/media/project/loreal/brand-sites/oap/shared/baseline/navigationext/loreal-paris-black-logo.svg?rev=147e5790cc7a43c1b5dfab8f019cda29", "width":189, "height":60 } }, "description":"If you want to channel your inner pixie there's no better time to do that then Halloween. Follow this guide to get a gorgeous fairy makeup and hair look, complete with pastel hair and sparkling eyeshadow. Love glitter and glam (who doesn't)? Then Halloween is the perfect time to indulge in sparkle and shine. And there's no better beauty look then Halloween fairy makeup as it has everything from pastel hair to metallic eyes and lips. The good news is that there's no right or wrong way to do this makeup! Whether you want to play with all the colours of the rainbow or just add a bit of sparkle to your fairy makeup look, you can go as glam or as subtle with your hair and makeup as you want. If you're ready to unleash your inner pixie, follow our easy step-by-step guide with @briannabissonmakeup that breaks down how to do your eyes, face and lips along with tips for getting pastel fairy hair." } }, { "@type":"ListItem", "position": 3, "url" : "https://www.lorealparis.ca/get-the-look-halloween-unicorn-makeup", "item":{ "@type": "Article", "mainEntityOfPage":{ "@type":"WebPage" }, "headline":"get-the-look-halloween-unicorn-makeup", "image":{ "@type":"ImageObject", "url":"https://www.lorealparis.ca/-/media/project/loreal/brand-sites/oap/americas/ca/articles/blog/cosmetics/get-the-look-halloween-unicorn-makeup.jpg?rev=0dfec44d711544dc92cd4e28a44d96b8", "height":900, "width":2000 }, "datePublished": "2022-07-04T19:02:07+00:00", "dateModified": "2023-07-04T18:54:14+00:00", "author": { "@type": "Brand", "name": "L'Oréal Paris" }, "publisher":{ "@type":"Organization", "name":"L'Oréal Paris", "logo":{ "@type":"ImageObject", "url":"https://www.lorealparis.ca/-/media/project/loreal/brand-sites/oap/shared/baseline/navigationext/loreal-paris-black-logo.svg?rev=147e5790cc7a43c1b5dfab8f019cda29", "width":189, "height":60 } }, "description":"Unicorn-inspired trends are here to stay which means it will surely be a popular costume come Halloween. Make your costume stand above the rest by following this unicorn makeup tutorial. Over the last year unicorns have taken over pop culture, turning up in trendy Frappuccino drinks to umpteen beauty products, from hair glitter to rainbow pastel palettes. It's safe to say the unicorn craze is upon us and isn't going anywhere any time soon. With all the pastel, metallic and rainbow products hitting beauty aisles, it's now easier than ever to recreate a fun and easy unicorn makeup look for Halloween. We enlisted influencer @lucierheaume to execute an easy DIY pastel unicorn-inspired beauty look. So get your makeup brushes and hair colour ready and follow along with our unicorn makeup tutorial and quick, colourful hair guide to get Halloween ready for this year." } } ] } }
Related Products
Discover more
Hair expertise
Hyaluron Plump Moisture Wrapping Mask, with Hyaluronic Acid, 300ml
{ "@context": "http://schema.org", "@type": "BreadcrumbList", "itemListElement": [ { "@type":"ListItem", "position": 1, "item": { "@id": "/", "name": "Home" } } , { "@type":"ListItem", "position": 2, "item": { "@id": "https://www.lorealparis.ca/en-ca/hair", "name": "Hair" } } , { "@type":"ListItem", "position": 3, "item": { "@id": "https://www.lorealparis.ca/en-ca/hair/hair-care", "name": "Hair care" } } , { "@type":"ListItem", "position": 4, "item": { "@id": "https://www.lorealparis.ca/en-ca/hair-care/hair-expertise", "name": "Hair expertise" } } , { "@type":"ListItem", "position": 5, "item": { "@id": "https://www.lorealparis.ca/en-ca/hair-care/hair-expertise/hyaluron-plump", "name": "Hyaluron Plump" } } , { "@type":"ListItem", "position": 6, "item": { "@id": "https://www.lorealparis.ca/en-ca/hair-expertise/hyaluron-plump/hyaluron-plump-mask-300ml", "name": "hyaluron-plump-mask-300ml" } } ] }