Removes yellow tones of grey hair Natural, luminous reflects Nourishes & revives radiance
Product Details

Discover the 1st beautifying colour care by L'Oréal Paris, specifically developed for natural grey to white hair. It removes yellow tones and leaves hair with natural and luminous silver tones. Hair is radiant, soft to touch and easy to style.
Ingredients

1184280 AQUA • CETEARYL ALCOHOL • COCAMIDOPROPYL BETAINE • BEHENTRIMONIUM CHLORIDE • PROPYLENE GLYCOL • AMODIMETHICONE • SCLEROTIUM GUM • CI 60730 / ACID VIOLET 43 • CI 61570 / ACID GREEN 25 • HCBLUENO. 2 • SODIUMCHLORIDE • SODIUM LIGNOSULFONATE • PHENOXYETHANOL • ETHANOLAMINE • TRIDECETH-6 • CHLORHEXIDINE DIGLUCONATE • ISOPROPYL ALCOHOL • DISPERSE VIOLET 1 • CITRIC ACID • CETRIMONIUM CHLORIDE • PARFUM.
Usage

Do an allergy test 48 hours before using product.
Read the instruction leaflet for guided application instructions. Note that there are different wait times based on the different shades.
Rinse and condition based on leaflet instructions.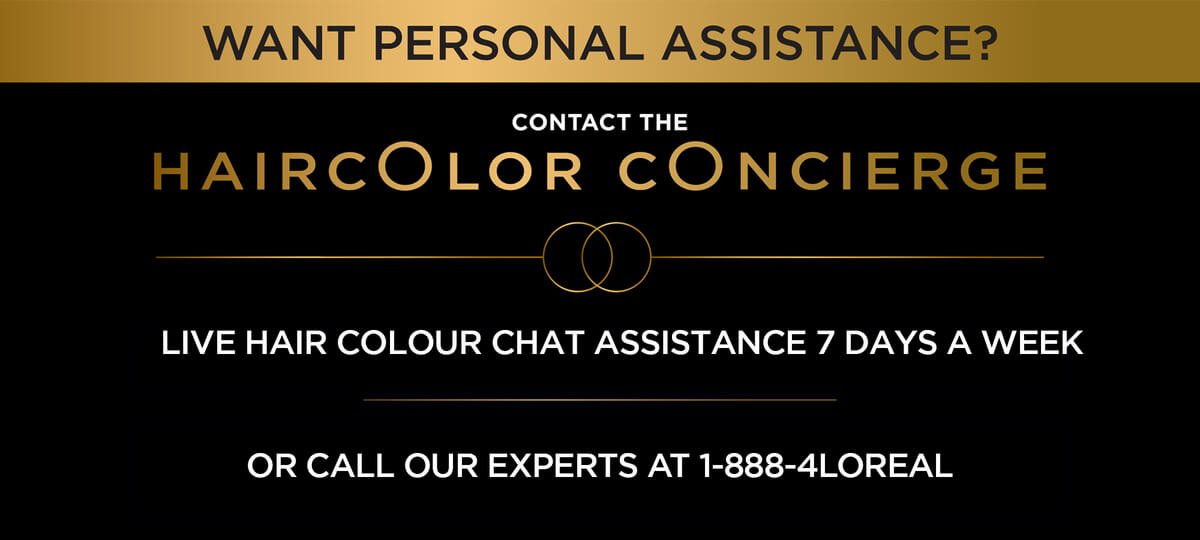 Read More on Age Perfect Colouring Care
Discover more tips & tricks
view all articles
{ "@context": "http://schema.org", "@type": "Thing", "subjectOf": { "@type": "ItemList", "itemListElement": [ { "@type":"ListItem", "position": 1, "url" : "https://www.lorealparis.ca/how-to-enhance-your-natural-grey-hair", "item":{ "@type": "Article", "mainEntityOfPage":{ "@type":"WebPage" }, "headline":"How To Enhance Your Natural Grey Hair", "image":{ "@type":"ImageObject", "url":"https://www.lorealparis.ca/-/media/project/loreal/brand-sites/oap/americas/ca/articles/blog/hair_colour/how-to-enhance-your-natural-grey-hair.jpg?rev=673205b4e67044a39d1c83ddfa619af6", "height":900, "width":2000 }, "datePublished": "2023-04-14T14:13:17+00:00", "dateModified": "2023-07-04T18:53:14+00:00", "author": { "@type": "Brand", "name": "L'Oréal Paris" }, "publisher":{ "@type":"Organization", "name":"L'Oréal Paris", "logo":{ "@type":"ImageObject", "url":"https://www.lorealparis.ca/-/media/project/loreal/brand-sites/oap/shared/baseline/navigationext/loreal-paris-black-logo.svg?rev=147e5790cc7a43c1b5dfab8f019cda29", "width":189, "height":60 } }, "description":"From caring for greys to complementing them with colour, these tips will help you transition to grey with grace." } }, { "@type":"ListItem", "position": 2, "url" : "https://www.lorealparis.ca/how-to-get-the-hottest-hair-colour-trend-of-the-season-silver-hair", "item":{ "@type": "Article", "mainEntityOfPage":{ "@type":"WebPage" }, "headline":"how-to-get-the-hottest-hair-colour-trend-of-the-season-silver-hair", "image":{ "@type":"ImageObject", "url":"https://www.lorealparis.ca/-/media/project/loreal/brand-sites/oap/americas/ca/articles/blog/how-to-get-the-hottest-hair-colour-trend-of-the-season-silver-hair_1080x476.jpg?rev=c93d2e3a7b9c4c47b1f8ef86fe58a216", "height":480, "width":1080 }, "datePublished": "2023-04-14T15:41:01+00:00", "dateModified": "2023-07-04T18:51:48+00:00", "author": { "@type": "Brand", "name": "L'Oréal Paris" }, "publisher":{ "@type":"Organization", "name":"L'Oréal Paris", "logo":{ "@type":"ImageObject", "url":"https://www.lorealparis.ca/-/media/project/loreal/brand-sites/oap/shared/baseline/navigationext/loreal-paris-black-logo.svg?rev=147e5790cc7a43c1b5dfab8f019cda29", "width":189, "height":60 } }, "description":"The silver hair trend has swept the runways and street style and has even been spotted on celebs on the red carpet. Follow these hair colouring tips to learn everything you need to know to rock silver strands." } }, { "@type":"ListItem", "position": 3, "url" : "https://www.lorealparis.ca/a-hair-experts-guide-to-going-grey", "item":{ "@type": "Article", "mainEntityOfPage":{ "@type":"WebPage" }, "headline":"A Hair Expert's Guide to Going Grey", "image":{ "@type":"ImageObject", "url":"https://www.lorealparis.ca/-/media/project/loreal/brand-sites/oap/americas/ca/articles/blog/hair_colour/a-hair-expert-s-guide-to-going-grey.jpeg?rev=4d5faa46635d4660ac0569d6255d461e", "height":900, "width":2000 }, "datePublished": "2022-06-17T20:15:09+00:00", "dateModified": "2023-07-04T18:52:53+00:00", "author": { "@type": "Brand", "name": "L'Oréal Paris" }, "publisher":{ "@type":"Organization", "name":"L'Oréal Paris", "logo":{ "@type":"ImageObject", "url":"https://www.lorealparis.ca/-/media/project/loreal/brand-sites/oap/shared/baseline/navigationext/loreal-paris-black-logo.svg?rev=147e5790cc7a43c1b5dfab8f019cda29", "width":189, "height":60 } }, "description":"Ready to take the plunge and embrace your naturally silver hair? This going-grey guide will help you transition with grace." } } ] } }
Discover More in Grey Coverage
Discover more
See all products
Age perfect beautyfying colour care
Touch of Silver
{ "@context": "http://schema.org", "@type": "BreadcrumbList", "itemListElement": [ { "@type":"ListItem", "position": 1, "item": { "@id": "/", "name": "Home" } } , { "@type":"ListItem", "position": 2, "item": { "@id": "https://www.lorealparis.ca/en-ca/hair-colour", "name": "Looking for a new hair colour? We have just what you need " } } , { "@type":"ListItem", "position": 3, "item": { "@id": "https://www.lorealparis.ca/en-ca/hair-colour/hair-colour", "name": "Hair colour" } } , { "@type":"ListItem", "position": 4, "item": { "@id": "https://www.lorealparis.ca/en-ca/hair-colour/age-perfect-beautyfying-colour-care", "name": "Age perfect beautyfying colour care" } } , { "@type":"ListItem", "position": 5, "item": { "@id": "https://www.lorealparis.ca/en-ca/age-perfect-beautyfying-colour-care/age-perfect-beautifying-colour-care-touch-of-silver", "name": "Age-Perfect Beautifying Colour Care Touch of Silver" } } ] }